Get the best tile and grout cleaning services with Smart Touch Cleaning Services in Dubai. Our company delivers the best commercial and residential natural stone tiles cleaning and grout cleaning services.
"Smart Touch Cleaning Services" provides professional deep cleaning of tile and grout for customers throughout the Dubai areas. We not only can deep clean your floors, showers and other surfaces, but we can help you keep them looking brand new with our grout sealing or Grout Color Sealing services. Learn more about each of the Tile and Grout Cleaning and Sealing services we offer…
Pool Tile Restoration
Smart Touch performs the best pool tile restoration in Dubai, UAE. We are a professional natural stone cleaning and grout sealing company.
What we do
Stone Restoration, Tile & Grout Cleaning Services,Granite Countertops for Properties in Dubai, UAE (Floors, countertops, showers and more…)
If it's natural stone, we can make it look great!
There's nothing quite like the elegance of natural stone — glass-like polished marble floors, travertine shower walls honed and filled to velvety-smooth perfection, elegant granite countertops with little flecks of color that reflect the light…
…but when marble or other natural stone has been installed improperly, subjected to harsh treatment, inadequate or improper maintenance, or even normal wear and tear, its beauty and lifespan can be diminished.
Likewise, tile and grout is a beautiful, practical material in kitchens, bathrooms, lobbies, and more. However, if it gets dirty, especially the grout lines, not only does it become an eyesore, but odors and bacteria trapped in nooks and crannies can create an unhealthy living or working environment — an unwelcome situation in any home or business.
There is no need for costly replacement. At Smart Touch Cleaning Services, we provide expert restoration of marble, granite, limestone, travertine, onyx to restore its original luster and beauty. From stripping old coatings to repairing chips and cracks, we have the knowledge, tools, and experience to make a dramatic difference. From grinding lippage (uneven tiles) to refinishing (honing and polishing) to sealing and protecting floors, counter tops, vanity tops, table tops, shower walls, tub surrounds, fireplace surrounds, and more, we are your professional stone care service. we are the best and professional service providers for Tiles Grout Cleaning Service and tiles & grout sealing, protection services by Professional company in Dubai at Smart Touch Cleaning Services LLC.
Our Services for Grout Fixing & Re grouting Service:
Existing grout removal
Deep cleaning surface
Vacuuming & cleaning
Apply new water proof grouting
Grout matching colours of existing tiles
Tiles & grout sealing
We deep clean tile and grout surfaces, and then seal the grout with clear or color grout sealing to protect it from staining. Our expert tile and grout services in Dubai will help ensure your home or workplace always looks clean and inviting.
For more information and prices on our Floor Cleaning Services in Dubai, call us at 055-897 7547 or 04-3383 744.
TILES & GROUT

SEALING

SERVICES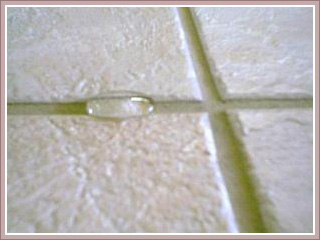 After cleaning, a dye based sealer imported as Grout Perfect is applied to the grout. This durable hard wearing sealer provides long term protection to grout lines and provides an outstanding finish. Our customer in Hampshire was delighted with the finish to her kitchen floor.
Using a Grout Perfect colour sealing technology, the colour applied in this photo is Ok, which matches the colour of tiles making the room feel bigger, brighter, and open. Grout cleaning and Grout Sealing is the perfect solution to the age old problem of dirty and discoloured grout.